If you're looking for a city that truly captures the essence of India, then Jaipur is the place to be. The vibrant Pink City of India is the place where history and culture come together to create a travel experience like no other.
From magnificent forts and palaces to bustling bazaars and charming cafes, Jaipur offers a diverse range of attractions for every type of traveller. Whether you're an art lover, a history buff, or a foodie, there's something for everyone in Jaipur.
On a three-day trip, you can visit some of the city's most iconic landmarks, including the Amber Fort, Hawa Mahal, and Jantar Mantar. If you're looking for a taste of local life, head to the bustling bazaars of Jaipur, where you'll find a wealth of colourful textiles, jewellery, and crafts.
For foodies, the city offers a delicious range of street foods and traditional Indian dishes, from Rajasthani Thali and Laal Maans to Balushahi and Dal Baluchi.
So, if you're looking for an unforgettable and wholesome travel experience, pack your bags and head to Jaipur. Trust us; you won't regret it!
Jaipur Places to Visit in 3 days
Day 1 Jaipur Places to Visit
City Palace
Hawa Mahal
Jaigarh Fort
Jantar Mantar
Day 2 Jaipur Places to Visit
Amber Fort
Nahargarh Fort
Birla Mandir
Albert Hall Museum
Johri Bazar
Day 3 Jaipur Places to Visit
Central Museum
Jaipur Zoo
Govind Dev Ji Temple
GaltaJi Temple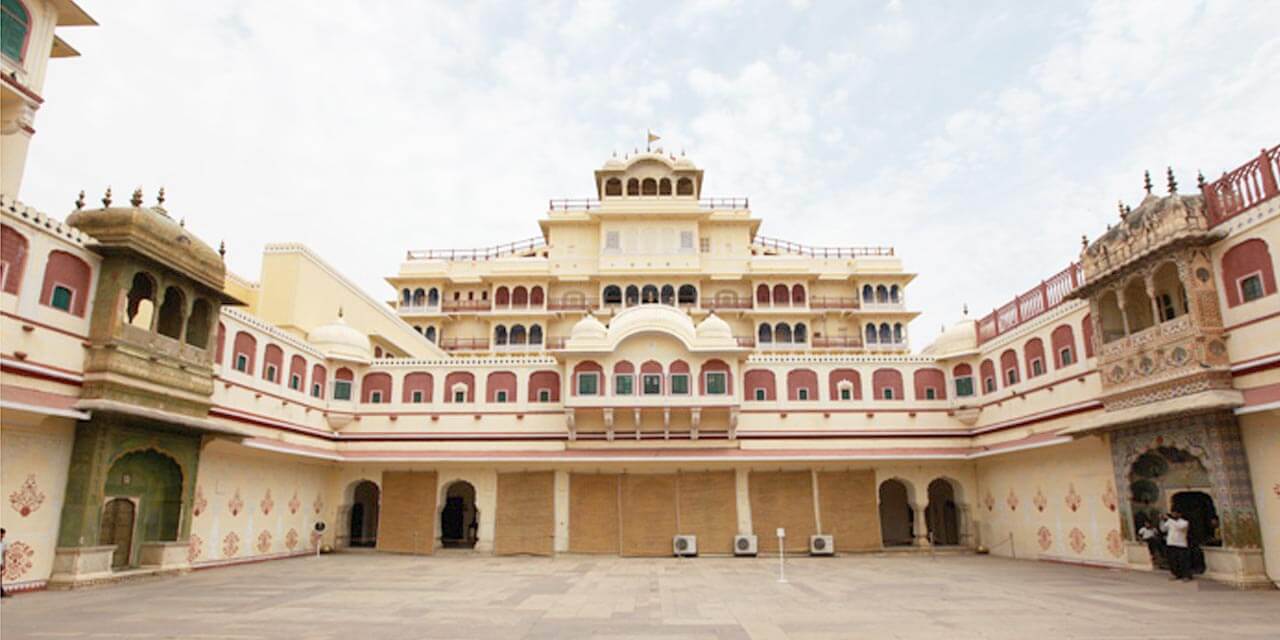 The iconic City Palace is located in the heart of the old city and was built by Sawai Jai Singh, the ruler of the Kachwaha Rajput Clan and founder of Jaipur. Jai Singh built the palace in the 17th century as his new residence and the capital of the state.
The architectural style of City Palace is a fusion of Indian, Rajput, Mughal, and European influences. According to history, it was designed by architects Vidyadhar Bhattacharya and Samuel Swinton Jacob.
Step inside the beautifully decorated gates, Tripolia Gate, Udai Pol, or Virendra Pol, and immerse yourself in the magnificent palace complex. Made of red and pink sandstone, the palace features murals, mosaics, and intricate stonework that showcase the perfect blend of design, art, and culture.
Explore the museum section or visit the royal family's residence, both of which require separate tickets. Or, opt for a composite ticket for access to both parts. The palace is located between the local markets Badi Chopar and Choti Chopar and is easily accessible by auto rickshaw, taxi, public bus, or cab from any part of Jaipur.
Whether you're a history buff or just looking for a stunning place to visit, the City Palace is a must-see!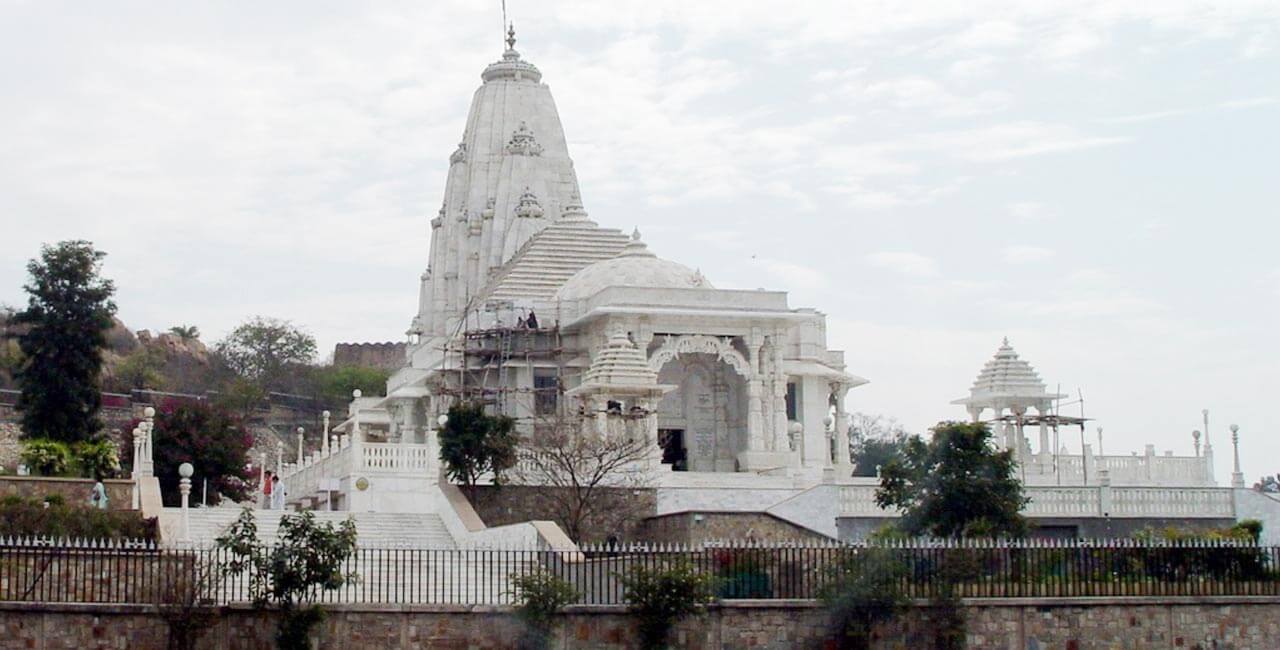 Birla Mandir, also known as Laxmi Narayan Temple, is a famous temple in Jaipur, known for its tranquillity and stunning white marble exterior. Built by the Birla family in 1988, it's a sanctum for Lord Vishnu and Goddess Lakshmi.
With a modern architectural style mixed with traditional temple elements, the temple walls and pillars are covered in intricate carvings and sculptures of Hindu gods, quotes from scriptures, and more.
The temple is all about celebrating India's diverse religious and cultural heritage, with figures of saints, philosophers, and historians from different religions sitting alongside Hindu figures. You'll see the teachings of Buddha, as well as the works of legends like Socrates and Confucius, all in one place, creating a mixture of ancient philosophies and religious teachings.
Inside, you'll find two beautiful statues of Lord Vishnu and Goddess Lakshmi, surrounded by the Hindu symbol Om. The temple premises feature lush lawns and a peaceful atmosphere, especially at night when the white marble domes shine under the moonlight. You can take a guided tour of the temple or explore on your own, with plenty of shops and a museum on site.
The nearby Moti Doongri temple is another popular Jaipur attraction and a must-see for those visiting Birla Mandir. And be sure to stop at one of the sweet shops near Moti Doongri to bring offerings to the Birla Mandir.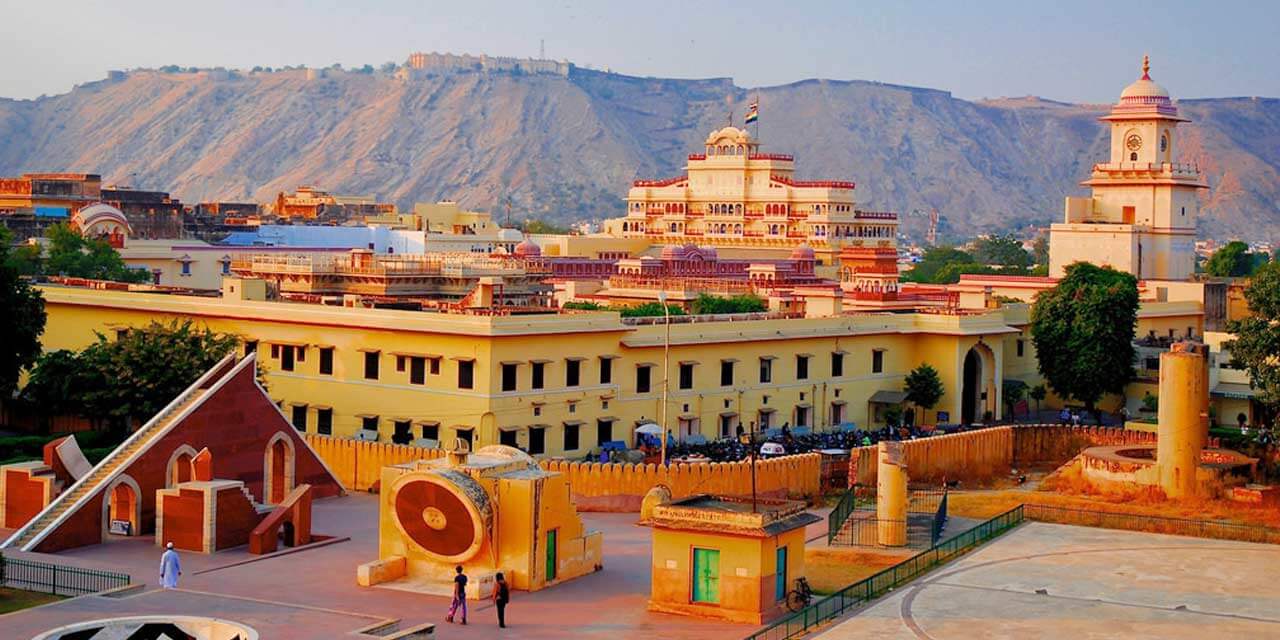 Step back in time and immerse yourself in the world of astronomy and history at the Jantar Mantar in Jaipur! Established in the early 1700s by Maharaja Sawai Jai Singh II, this unique collection of instruments and structures will captivate even those not interested in history or astronomy. With a name derived from the Sanskrit words for "astronomy" and "formula," this observatory is a true masterpiece of architecture.
Inside Jantar Mantar explore the 19 different instruments and their specific uses, including the massive Samrat Yantra sundial. It is said that Jantar Mantar was created with the help of 23 astronomers. Each instrument here is a work of art in its own right, and a visit to Jantar Mantar is an experience that will stay with you forever.
Don't miss out on the captivating sound and light show that takes place every evening at Jantar Mantar. It's a must-see for anyone interested to know more about the history of Jantar Mantar. Whether you're interested in astronomy, history, or just beautiful architecture, Jantar Mantar is one of the perfect destinations in Jaipur.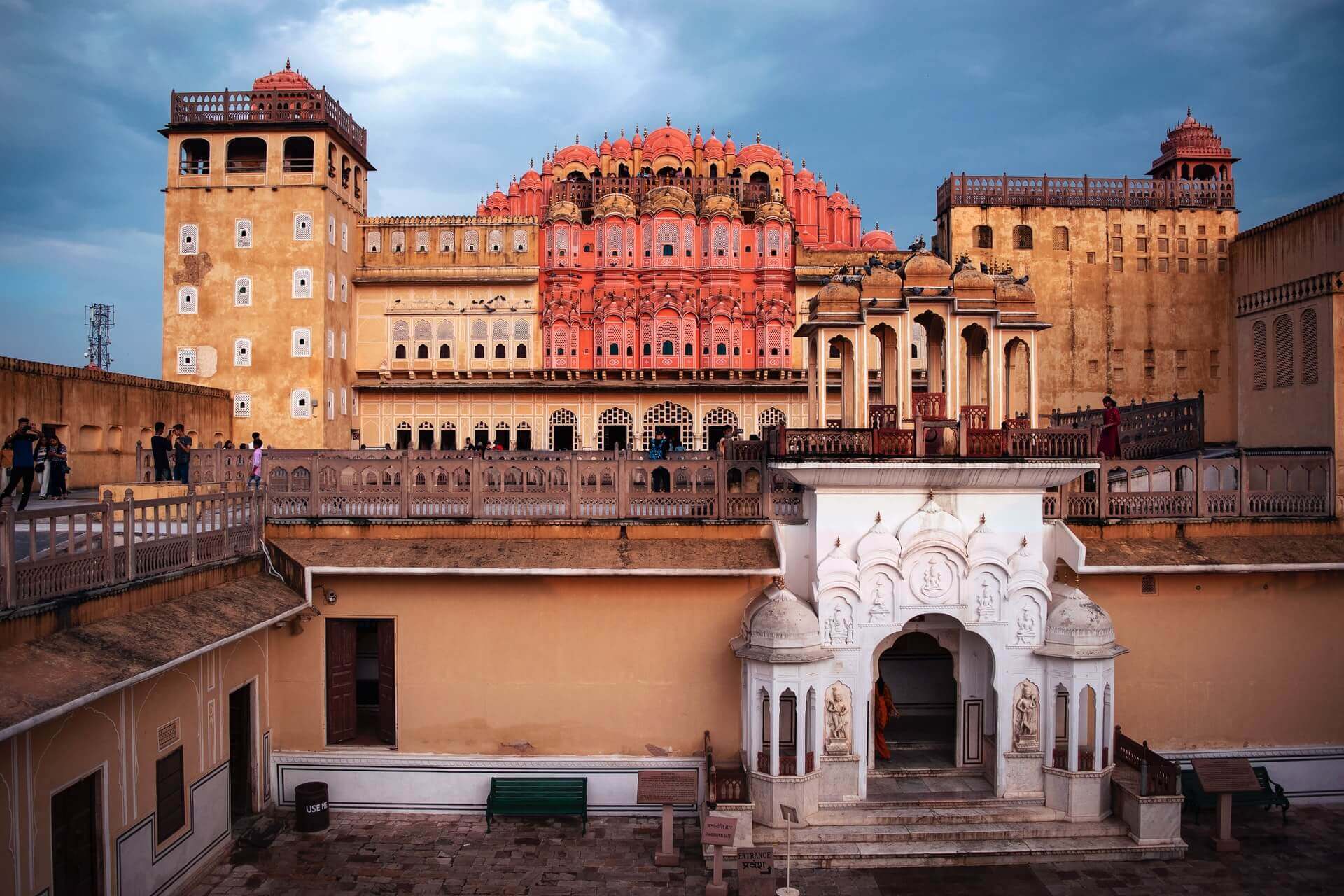 Known as the "Palace of Wind", this magnificent building boasts a unique five-story structure that resembles a honeycomb due to its 953 small windows called jharokhas. Made with stunning pink and red sandstone, it stands tall without any foundation and is tilted at an angle of 87 degrees, making it one of the unique structures in the world.
A visit to Hawa Mahal will be a treat for your eyes and the soul. The intricate carvings on the walls and windows of the palace showcase the rich heritage of Jaipur. And from the top, you'll get a breathtaking view of the City Palace, Jantar Mantar, and the bustling Sireh Deori Bazaar. And, if you're interested, there's also a small museum inside the palace that houses rich relics and miniature paintings.
Before you leave, remember to explore the shopping area outside the palace premises, known as Badi Chaupal or Manek Chowk. It's a central shopping hub in the city, where you can find a wide range of traditional and unique items, from dress materials with Jaipuri prints to jewellery, handicrafts, antiques, and more. So, take a break from the regular and immerse yourself in the rich culture of Jaipur at the Hawa Mahal.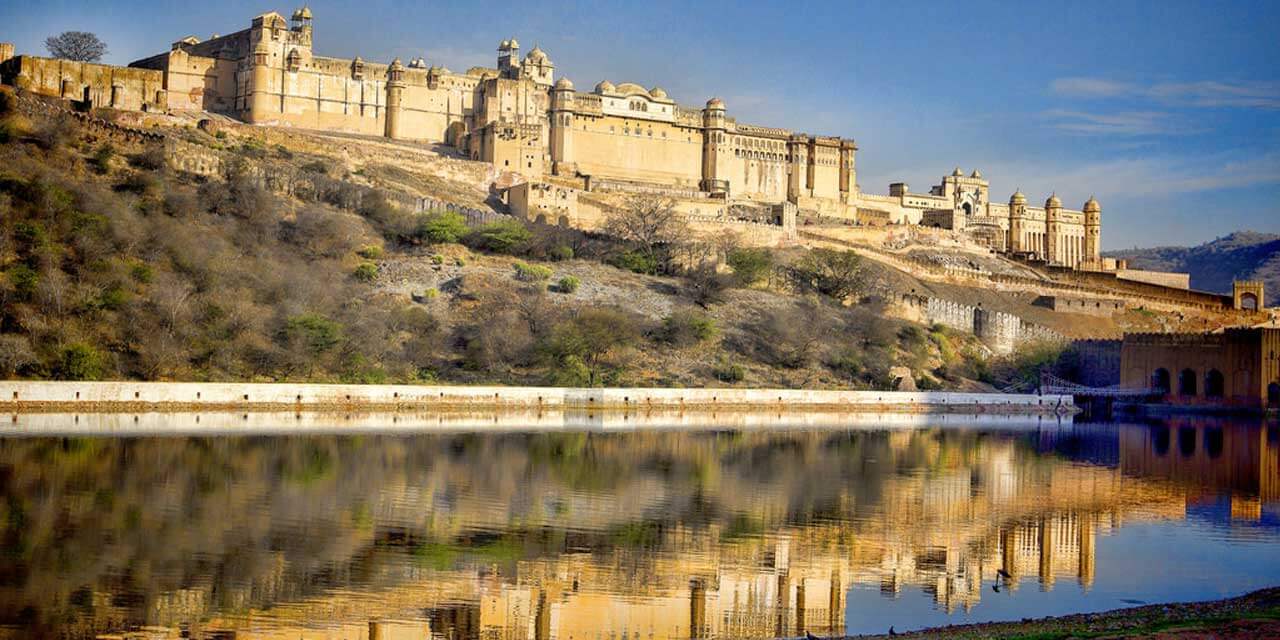 Experience the grandeur of Rajasthani architecture at Amer Fort, a magnificent palace complex located just 11 km north of Jaipur. The fort, built on Kalikho hills formed by Aravalli ranges, showcases the brilliance of Rajput rulers. Built with a combination of pale yellow and pink sandstone, and white marble, this fort is divided into four main sections, each boasting its own courtyards.
Step inside the fort, and you'll be greeted by the grand entrance Suraj Pol or Chand Pol. Both these gates open into the main courtyard, Jaleb Chowk, where armies used to show off their spoils of war to the public. From here, explore the Jaleb Chowk, King's quarters, the women's quarters, known as the zenana, temples and lush gardens.
From the awe-inspiring diwan-e-aam to the stunning Sheesh Mahal, this palace complex is brimming with history and beauty. With a knowledgeable guide by your side, you'll be taken on a journey through time as you explore every corner of the fort and learn about its rich history.
Another great attraction of the Amer Fort or Amber Palace is the light and sound show at night. The show will display local folklore, tales, myths, and the rich history of the fort. Listen to the stories of the kings, and immerse yourself in the sagas of the wars that were fought. So, when you're in Jaipur, don't miss out on this opportunity to immerse yourself in the magnificent world of Amer Fort.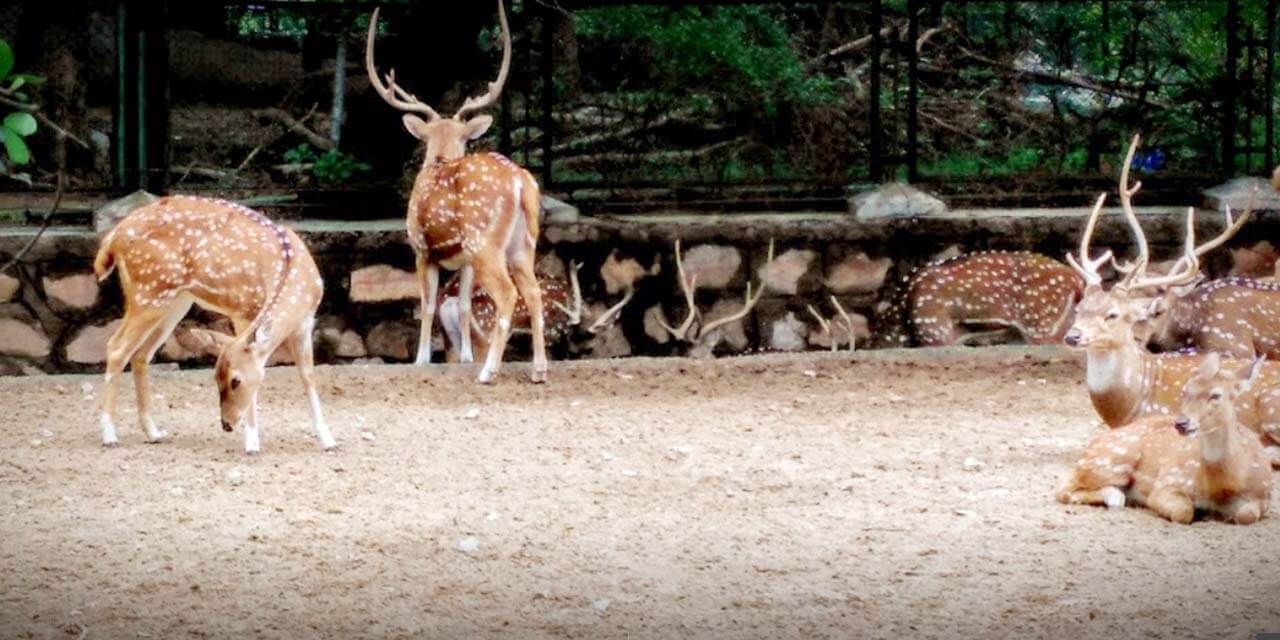 Discover a world of fascinating creatures at the Jaipur Zoo! Nestled near the Albert Hall Museum, this zoo is a hub of diverse animals and birds. It was opened in 1877 and is now home to various species of birds, reptiles, and mammals.
In 2018, it was officially designated as a bird park, showcasing an impressive collection of almost 50 bird species and other animals like black bears, black bucks, baboons, hyenas, and more.
Take a stroll through the zoological garden and marvel at the different creatures on display. The zoo has been divided into two sections - one for mammals and the other for birds and reptiles. From Black Bears and Himalayan Bears to Baboons and Hyenas, you'll find a wide range of mammals at the zoo.
The bird section is equally impressive, with an array of beautiful species like Peacocks, Parrots, and White Ibis. And don't miss the chance to catch a glimpse of the zoo's reptiles, like crocodiles and gharials.
But that's not all! The Jaipur Zoo also houses a museum showcasing the rich history and wildlife of Rajasthan. Plan your visit in the winter months, from November to February, for the best experience. Arrive early in the morning to make the most of your day, and explore the zoo at leisure until late evening.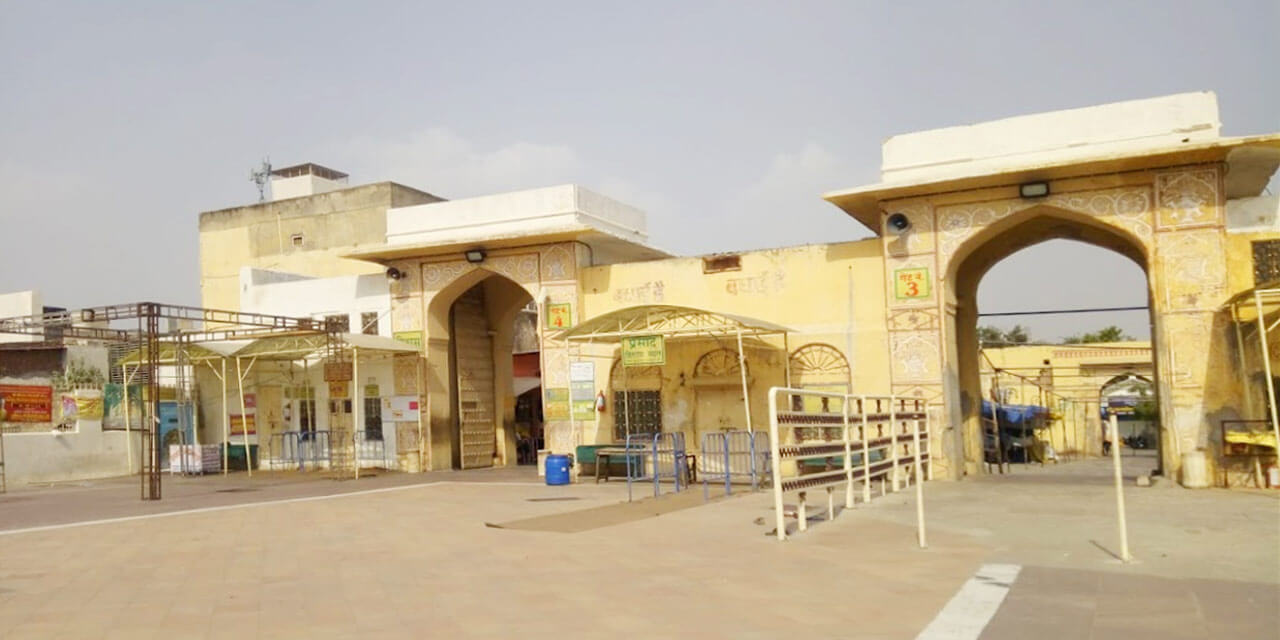 This magnificent temple, nestled within the City Palace complex, is a true gem among Jaipur's spiritual sites. Built in 1735 by Maharaja Sawai Pratap Singh II, the temple is dedicated to Lord Krishna's form of Govind Devji, who was also worshipped by the Kachwaha Dynasty of Amber. The locals believe that the statue of the deity here looks exactly like Krishna's form on Earth.
The Govind Ji Temple is a magnificent blend of Rajasthani, Muslim, and classical Indian architectural styles. Its walls are adorned with stunning chandeliers and paintings, while the ceilings are covered in gleaming gold. The temple is surrounded by a lush and peaceful 'Talkatora' garden, perfect for children to play and explore.
If you're looking for a more spiritual experience, the Satsang hall of the temple is a separate space for religious and cultural activities. Thousands of devotees visit the Govind Dev Ji Temple every year to offer their prayers and seek blessings from Purushottam, the Supreme Lord Krishna. Join the local community and immerse yourself in the devotion and beauty of this holy site.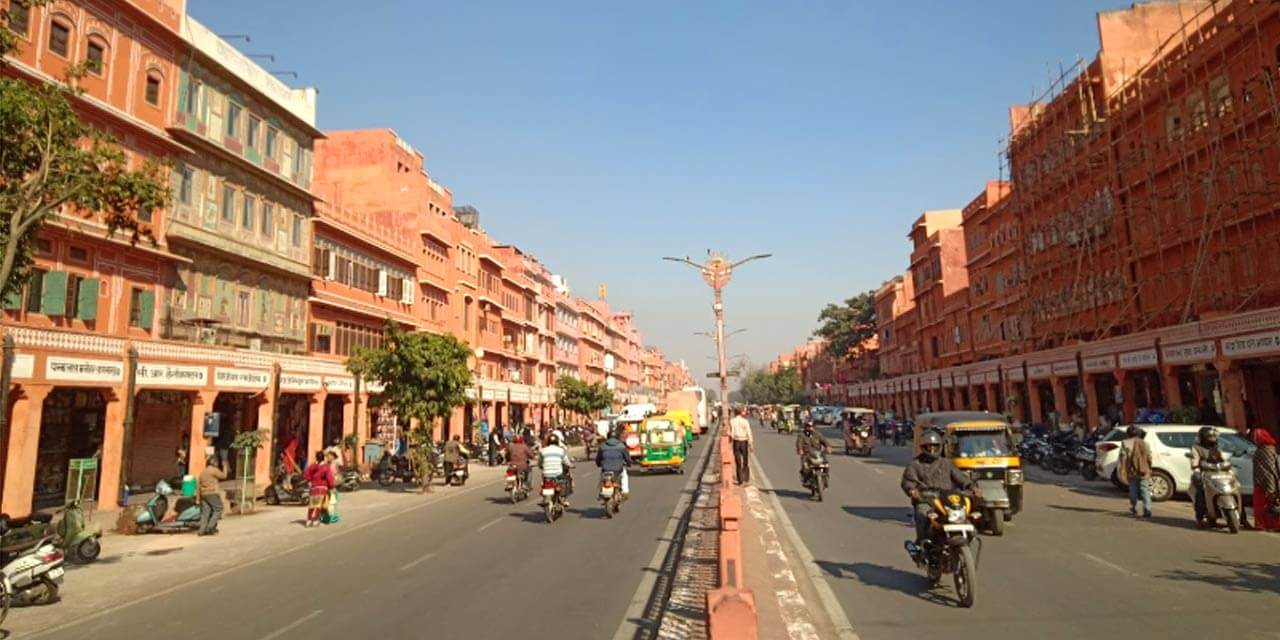 Johari Bazaar is the city's oldest market known for its sparkling jewels, delicious food, and lively atmosphere. If you're a jewellery lover, get ready to be wowed by the vast array of glittering Jaipuri jewellery crafted in gold, silver, diamonds, emeralds, and rubies. The word "Johari" means "jeweller" in Hindi, and that's exactly what you'll find in abundance here.
But Johari Bazaar is more than just jewellery. You'll also find a plethora of products ranging from textiles, handicrafts, pottery, quilts, apparel, and footwear. The famous Jaipuri cotton quilt is a must-have item that many visitors take back home with them.
And don't worry, even if you're not a fan of street shopping, there are plenty of high-end stores available here too. Just remember to brush up on your bargaining skills when shopping at the street stalls and shops for the best deals.
And finally, treat yourself to a taste of local cuisine by trying the Dahi Bade, a delicious dish you won't want to miss. With so much to offer, Johari Bazaar is an essential stop for any shopping lover in Jaipur.