The vibrant and colorful capital of Rajasthan, the "Pink City", Jaipur, is a treasure trove of history, culture, and architecture. From the iconic pink-painted buildings to the magnificent palaces and stunning temples, Jaipur is a perfect blend of Rajasthani and Mughal architecture. A trip to India is not complete without spending some time in this charming city.
You'll be amazed by the numerous palaces and forts that the city has to offer. The Hawa Mahal, Amber Fort, Nahargarh Fort, and Jal Mahal are must-sees, each of them showcasing the unique beauty of Rajasthani architecture. And don't miss the City Palace, still home to the royal family, where you can witness intricate carvings, beautiful courtyards, and a collection of weapons and manuscripts.
But let's be real; one day is not enough to explore all Jaipur offers. If you're looking for a more grand experience, at least spend two days here. So, if you're ready to immerse yourself in the Rajasthani culture, here are the best places to visit in Jaipur in 2 days.
Jaipur Places to Visit in 2 days
Day 1 Jaipur Places to Visit
City Palace
Jantar Mantar
Nahargarh Fort
Galtaji temple
Day 2 Jaipur Places to Visit
Albert Hall Museum
Birla Mandir
Central Park
Rambagh Palace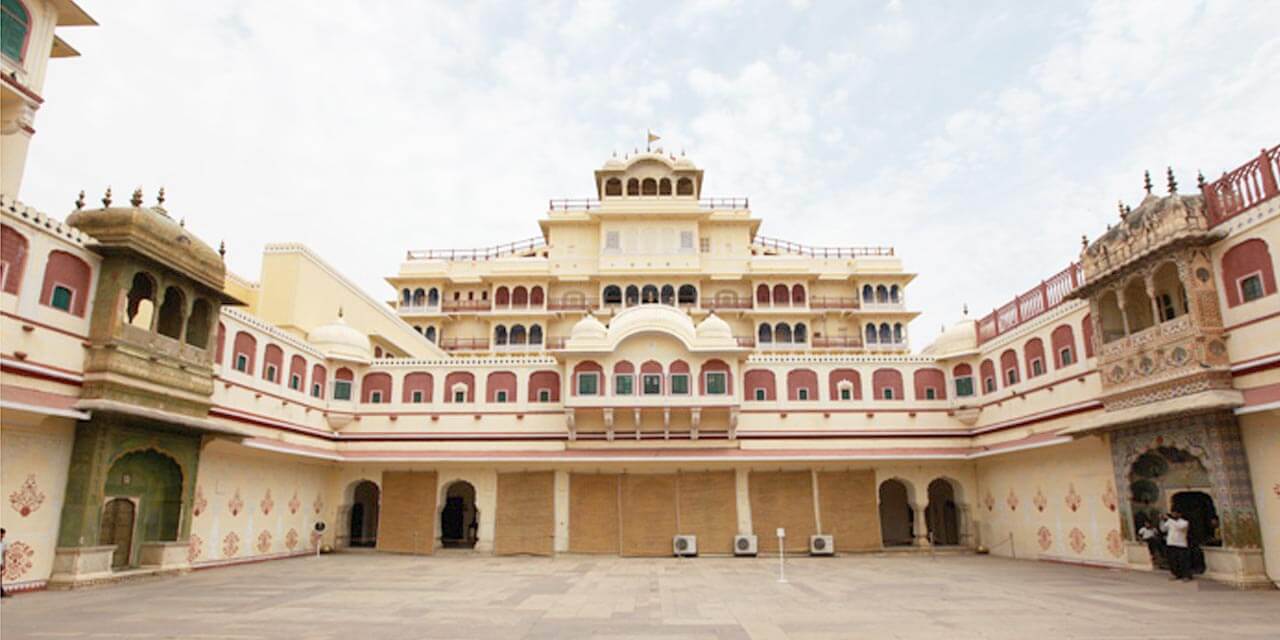 If you're looking for a royal experience, look no further than City Palace in Jaipur. The palace, which was built in the 18th century by Maharaja Sawai Jai Singh II, stood in the city of Jaipur for three centuries.
City Palace is surrounded by beautiful gardens and courtyards that are a fusion of Rajasthani and Mughal architecture. City Palace still serves as the residence of the modern-day royal family.
The current royal family resides in the most striking building called Chandra Mahal. It's an elegant structure with curved eaves and dome-shaped rooftops. Each of its seven floors has a different architectural style, and you can only see the ground floor with regular admission, but if you want to explore more, you can book a private tour.
Other must-see places in City Palace include the Welcome Palace (Mubarak Mahal), where you can see the collection of mesmerizing costumes and textiles, the Armoury, the Peacock Courtyard (Pritam Niwas Chowk), which has doorways painted to look like peacock feathers. And lastly, the Hall of Public Audience (Diwan-i-Am) features the palace's collection of miniature paintings.
Its grand architecture, rich history, and stunning views make it a perfect destination for history buffs.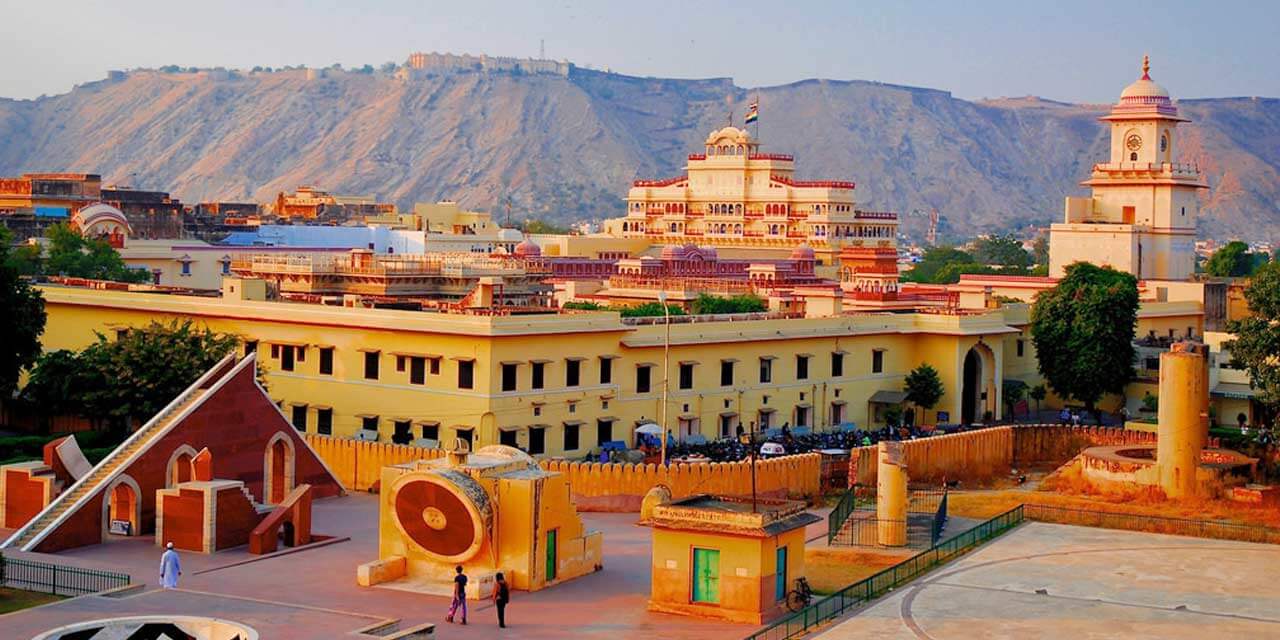 Jantar Mantar in Jaipur is a true marvel of ancient engineering and astronomy. Nestled near the City Palace, this stone observatory is the largest in the world and has been recognized as a UNESCO World Heritage Site. Built by Raja Sawai Jai Singh in the 1700s, it features an impressive collection of 19 instruments made of stone and brass. These tools were intelligently designed and placed to allow observers to track the movements of celestial bodies using just their naked eye.
One of the most striking features at Jantar Mantar is the massive Samrat Yantra, a sundial that stands 27 meters tall. It can measure time with an accuracy of two seconds by casting a large shadow. Another noteworthy instrument is the Jai Prakash, which uses the shadow of a suspended metal plate to track the passing of time.
But Jantar Mantar isn't just a place to admire the ancient architecture. It's also a functional observatory that can predict eclipses and track the movements of stars and planets. Jantar Mantar in Jaipur is a must-visit destination for any traveler interested in ancient engineering and astronomy. To truly appreciate the complexity and ingenuity of this ancient study, consider hiring a private guide who can explain how each instrument works.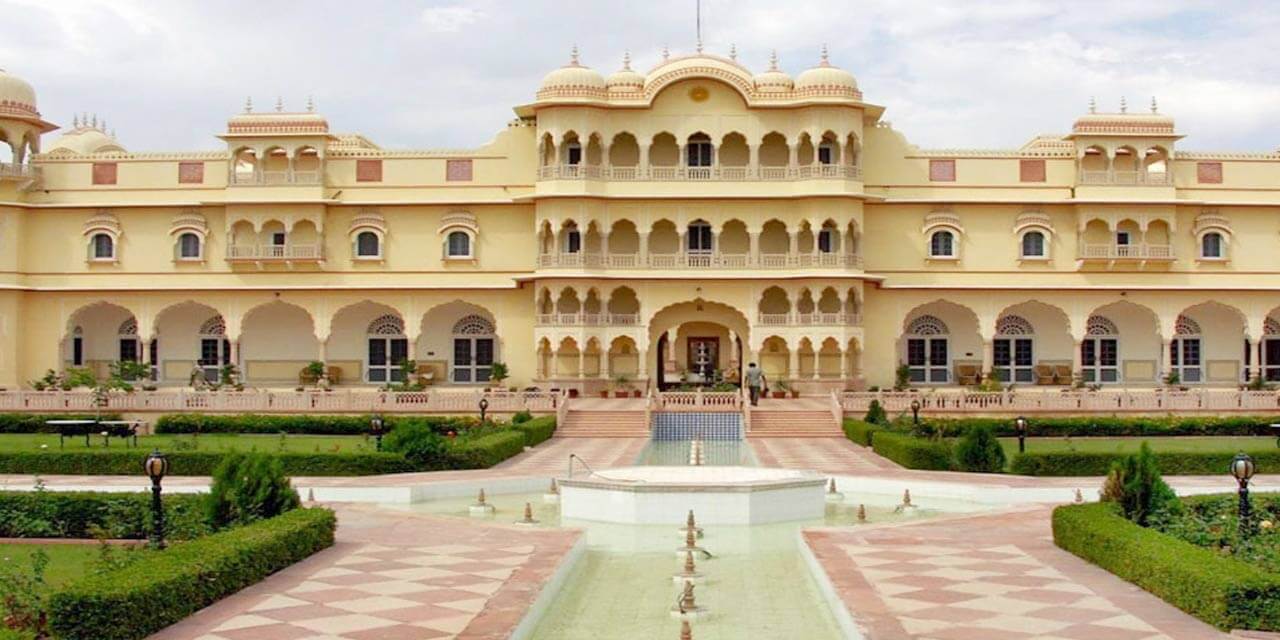 If you're looking for breathtaking views in Jaipur, you can't miss Nahargarh Fort. Also known as Tiger Fort, this nearly 300-year-old fort is perched atop the Aravalli Hills, offering a panoramic view of the entire city. It was once a strategic location for defending Jaipur against enemies, and now it's a popular tourist destination.
The fort boasts beautiful Indo-European architecture, and inside you'll find a variety of structures to explore. As soon as you enter through the "Tadigate" or the entrance gate, you'll come across a temple dedicated to the Jaipur rulers on the left. Further inside, you'll find another temple devoted to the Rathore prince, Nahar Singh Bhomia. Another highlight is the Madhavendra Bhawan, a two-storied building with suites for the king and his twelve queens. Other attractions inside the palace include the Diwan-I-Aam, an open-air enclosure where the king met his subjects and listened to their problems and complaints.
If you're interested in wildlife, you should check out the Nahargarh Zoological Park, where you'll find animals such as Asiatic lions, Bengal tigers, panthers, hyenas, wolves, deer, crocodiles, sloth bears, Himalayan black bears, wild boar and more. There's also a wax museum and sculpture park inside the fort. And when you're feeling hungry, there are plenty of restaurants serving traditional Indian cuisine.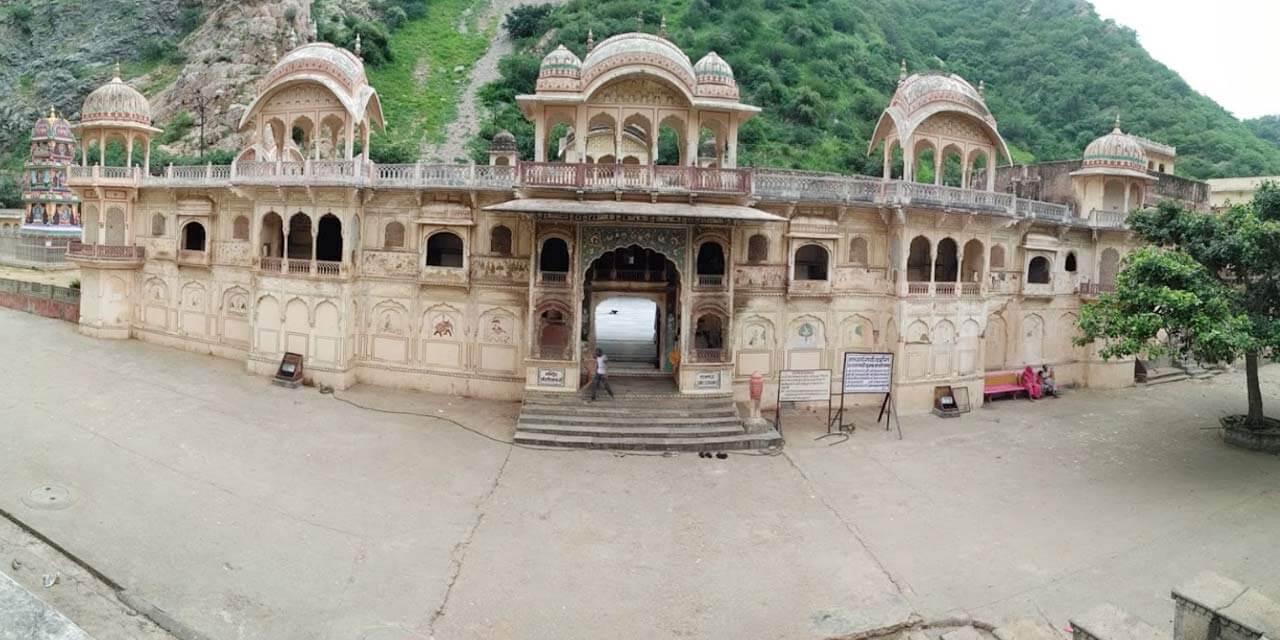 Galtaji Temple, located on the outskirts of Jaipur, is a must-see destination for those interested in Hindu pilgrimage and history. Surrounded by the striking Aravalli Hills, the temple comprises shrines, holy kunds (water tanks), pavilions, and natural springs. The temple, built using pink sandstone, offers a beautiful landscape of rich greenery and freshwater sources, which is a rare sight in the desert state of Rajasthan.
Galtaji Temple is also known as the "Monkey Temple" due to the hundreds of macaques and langurs that call it home. Visitors can observe the playful monkeys from a distance, but it's best not to feed them. The temple is also home to several sacred water tanks, some with fountains and frescoes depicting stories of the Hindu god Krishna.
The temple's official name is Galta Ji. Still, it's better known for its monkey inhabitants and the natural spring flowing through the temple complex, making it a popular pilgrimage site for Hindus. The complex of shrines, holy kunds, pavilions, and natural springs make it an ideal place for those seeking peace and tranquility.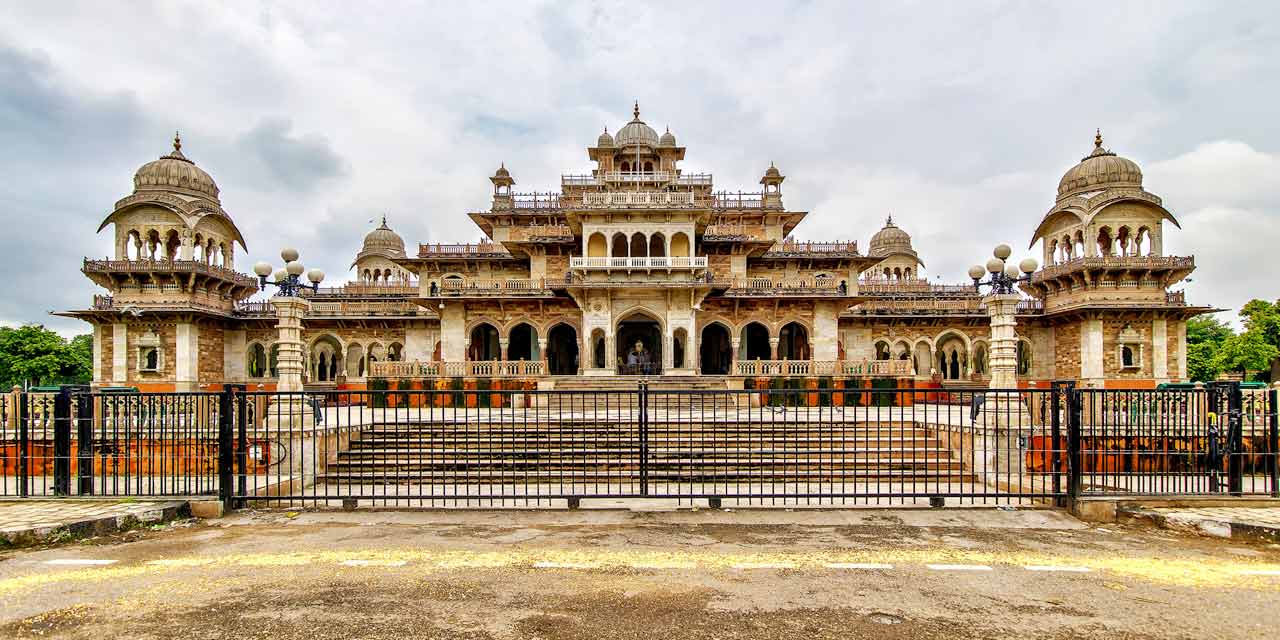 The Albert Hall Museum in Jaipur is a must-see destination for anyone interested in art and history. Known as the "rebuke to all other museums in India", this renowned institution is home to an impressive collection of antiques and treasures from the 19th century.
Inside, visitors can explore a variety of galleries, including the Carpet Gallery, Clay Art Gallery, Coin Gallery, Jewellery Gallery, and Musical Instruments Gallery. Each one is filled with fascinating items that showcase the rich cultural heritage of Rajasthan.
However, the most unique and intriguing piece in the museum that's sure to leave an impression is the Egyptian mummy. You'll also find other ancient coins, marble art, pottery, carpets, and more. The building itself is also a marvel to behold, with its Indo-Saracenic-inspired domes and intricately carved arches constructed from sandstone.
For an extra-special experience, visit the museum at night when the exterior is beautifully illuminated with multicolored lights. It's an awe-inspiring sight that perfectly captures the magic of this historic institution.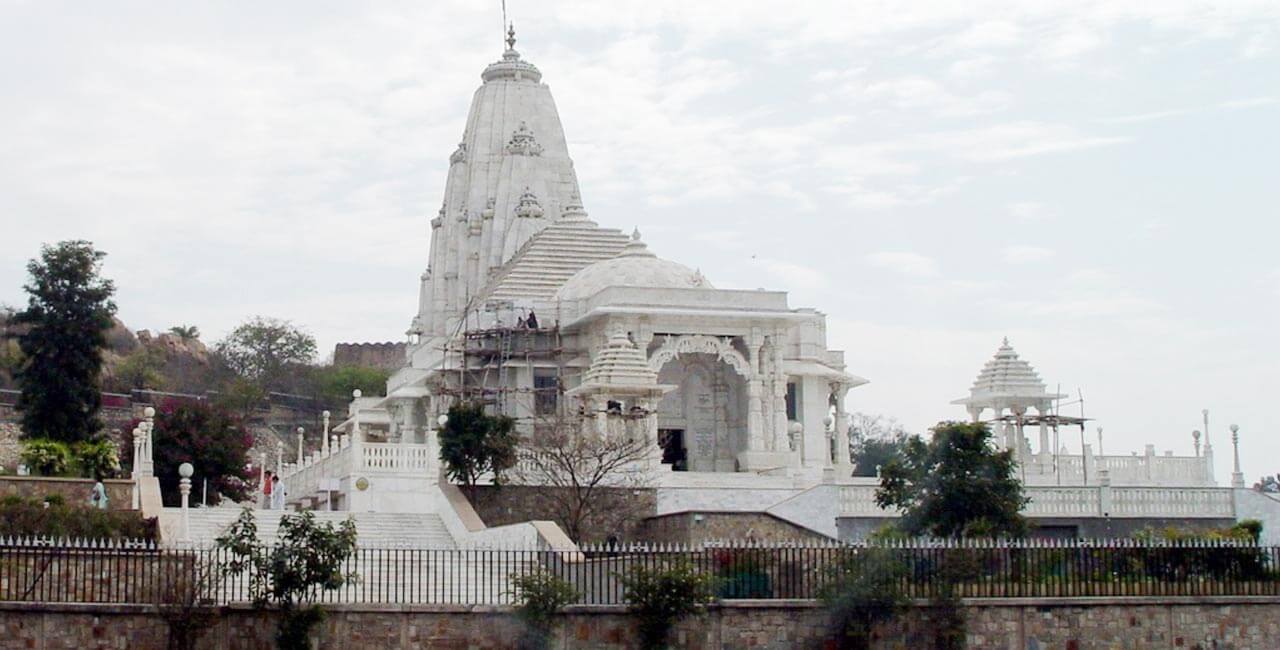 The Birla Mandir in Jaipur is a must-see for any visitor to the city. This stunning Hindu temple, also known as the Lakshmi Narayan Temple, sits atop the Moti Dungari Hill and is a true testament to the architectural brilliance of ancient and modern times. The all-white marble temple is a feast for the eyes, with intricate carvings of gods and goddesses and quotes from ancient texts adorning its walls.
But it's not just the architecture that makes this temple so special. The temple also features images of historical figures, legends, philosophers, and spiritual leaders worldwide. If you're visiting during Janmashtami, be sure to stop by the temple, as it comes alive with celebrations and activities.
Even if you're not there during a festival, the temple's peaceful and serene atmosphere is the perfect place to take a break from sightseeing and appreciate the intricate carvings and stunning sunset views.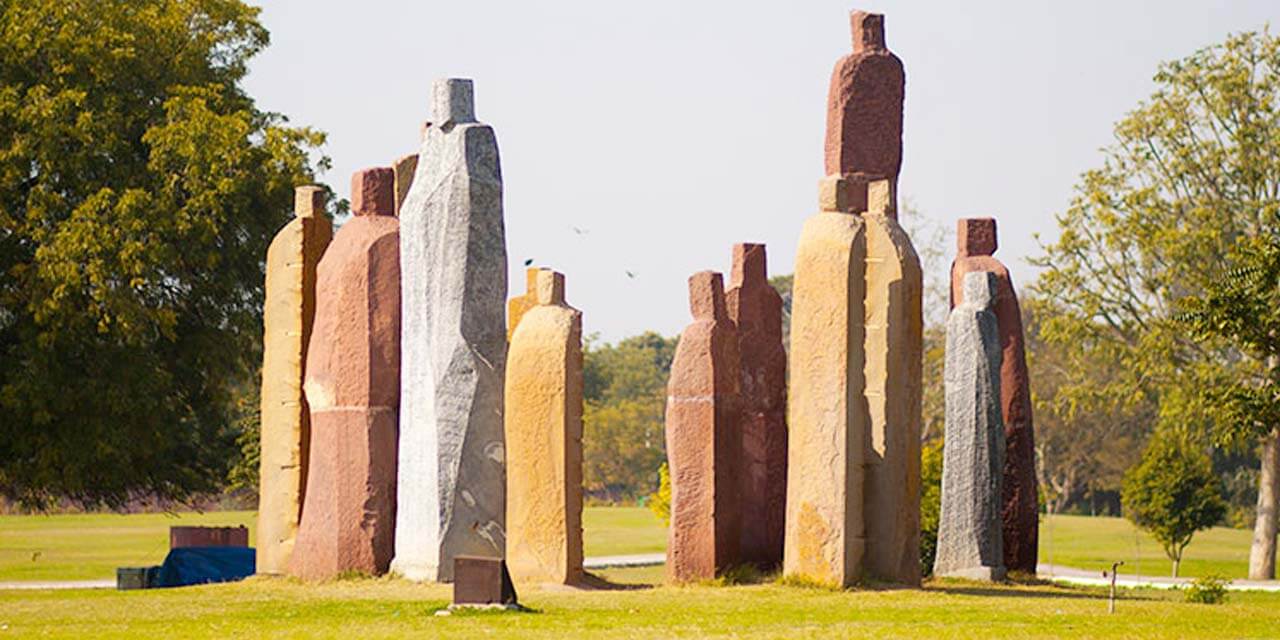 If you're looking for a little break from the hustle and bustle of Jaipur, Central Park is the place to be. Built by the Jaipur Development Authority, this expansive park is the largest in the city, and it's a popular spot for locals and visitors alike. Whether you're looking to have a picnic with your family, catch up with friends, or simply enjoy some peaceful greenery, the park has plenty to offer.
One of the standout features of Central Park is its tall, first-of-its-kind day and night national flag, which is a big draw for tourists. But beyond that, the park is home to a wide variety of native and migratory birds, making it a haven for ornithologists. Additionally, the park is a popular spot for fitness enthusiasts, with plenty of space for running, workout areas, and yoga sessions.
So, whether you're looking to relax in peaceful surroundings or get active with some exercise, Central Park is the perfect place to spend a day in Jaipur. With its lush gardens, running tracks and various other activities, it's a great spot to spend quality time with your loved ones.
8. Rambagh Palace
Experience the grandeur of a bygone era at the Rambagh Palace, a luxurious heritage hotel located in the heart of Jaipur. Once a royal residence, this palace has a rich history that spans over a century, from being the home of the queen's handmaiden to a hunting lodge and guesthouse for royalty. Guests like Lord Louis Mountbatten, Prince Charles, and Jacqueline Kennedy have graced its halls. Now, it is known as the "Jewel of Jaipur" and is run by the Taj Hotels and Resorts.
Step into the palace and be enchanted by its well-manicured gardens and stunning architecture, a blend of ancient and modern design. The palace boasts intricate wall carvings, wooden and marble flooring, and Rajasthani furniture that will transport you to a time when technology was not as advanced and artisans relied on their handiwork to create beauty. The palace is a true reflection of the cultural heritage of Jaipur while offering guests the ultimate luxury and comfort.
---
But Jaipur is not just about its historic buildings; it's also a great place to experience the local culture. You can take a stroll through the vibrant bazaars, where you'll find a wide variety of traditional handicrafts, textiles, and jewelry. The food in Jaipur is also a highlight, with a diverse range of dishes that will tantalize your taste buds. Don't miss out on trying the local delicacies like daal-baati-churma, kachoris, and the famous "Mirchi Bada".