Jaipur, the capital city of Rajasthan, has been invariably on the wish-list of every travel enthusiast. Its historical splendidness, majestic architectures, cultural vibrancy, culinary excellence and scenic beauty make Jaipur an unparalleled tourist destination.
Often called as Pink City, Jaipur was named after the Maharaja Sawai Jai Singh II. This magnificent city was founded in 1727 and since then it has been creating its mark in the history of the country. Jaipur boasts of many interesting holidaying choices and the best way to experience the pink city is with our 1 Day Jaipur Darshan tour packages by private car.
The city has wonderful options to keep everyone engaged, ranging from festivals like kite Festival or Teej festival to sightseeing places such as palaces, zoos, museums, gardens and temples. However, depending on the duration of your Jaipur tour and your interest, you can pick and choose the suitable places to visit in Jaipur.
We at Jaipur Tourism, a division of Holidays DNA along with the leading tour organisers in Jaipur, have created a wide array of 1 Day Jaipur Darshan Tour Packages, catering to varied requirements and interest. With these packages you can be sure to have an exciting day of exploring the top sightseeing places in the city.
By choosing these packages you free yourself from herculean task of deciding where to visit at what time and how as these packages takes care of sightseeing in the city in the most hassle free way. With a private taxi from these leading car rental companies in Jaipur, you will be able to visit the places without having to haggle fares or search transportation.
Top Sightseeing Places to Visit with 1 Day Jaipur Darshan Tour Packages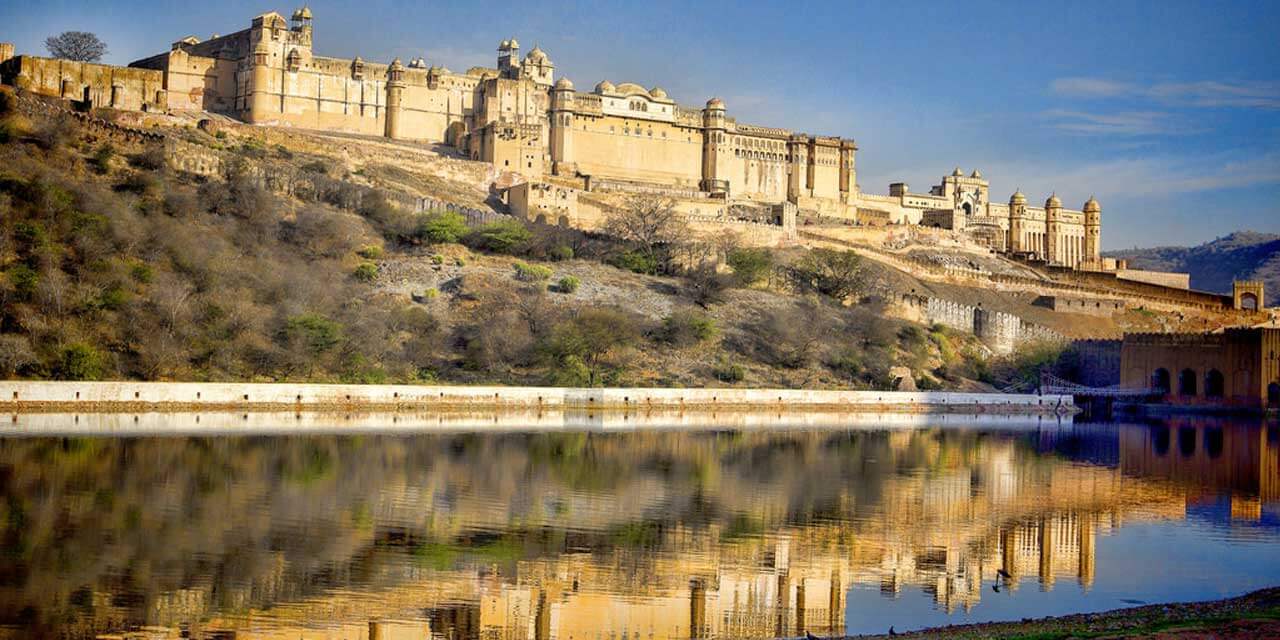 Built in the Indo-Islamic Style of architecture, Amber Palace/Amber Fort, is undeniably one of the most beautiful forts in Jaipur. Constructed in 1592 AD, this palace was built by Raja Man Singh of Amer who was also a general of the Mughal Emperor Akbar.
This palace was expanded by Raja Jai Singh I. With four courtyards in its vicinity, this palace also has buildings like Palace of Man Singh I, Sukh Mahal,Sheesh Mahal, Lion Gate, Tripolia gate, Lion gate, Diwan-I-Aam. Once at Amber Palace, do attend the light show here.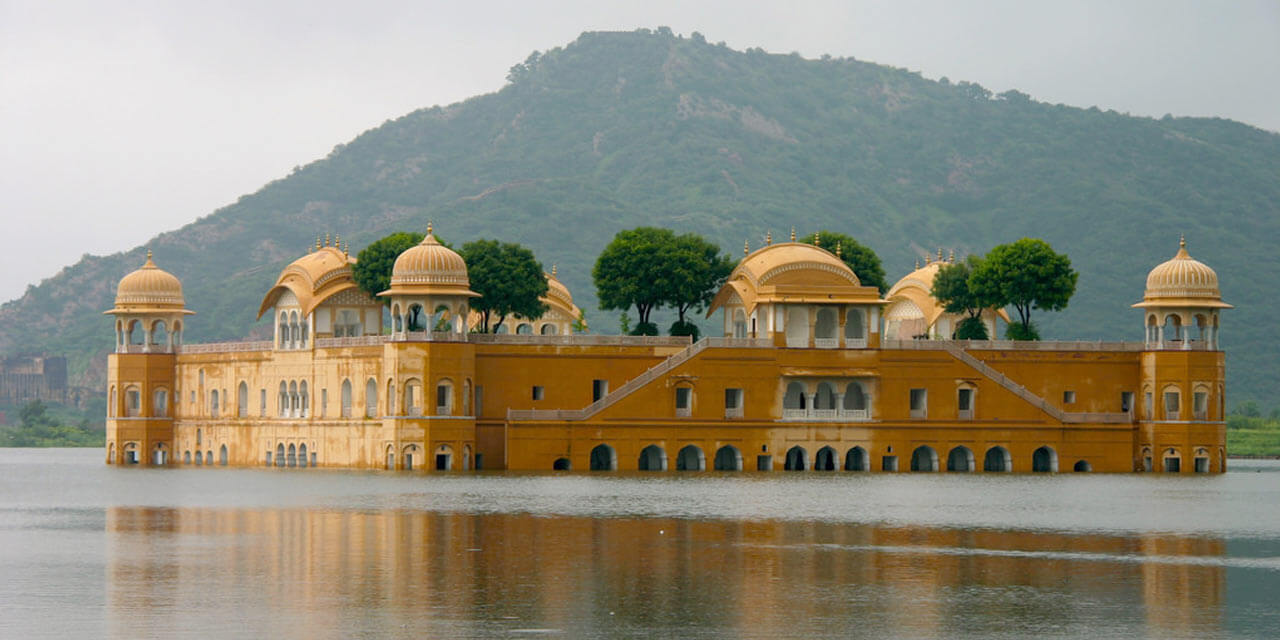 Renovated by Maharaja Jai Singh II in 18th century, Jal Mahal is located in the center of a lake. It is one of the most preferred sightseeings place with our 1 Day Jaipur Darshan package. This astonishing architecture presents a mesmerising view of the lake and surrounding city. With its four floors submerged in water and one floor above the water and structure that still stands strong, Jal Mahal does presents an idea of technological excellence of the ancient times.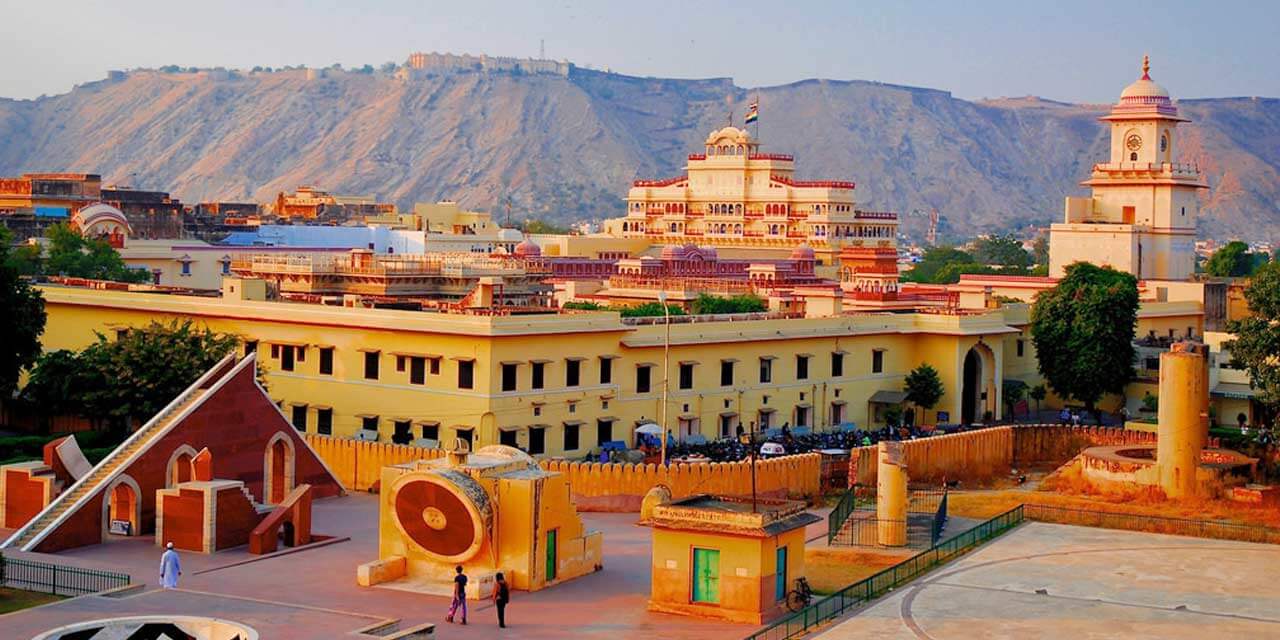 Constructed by Maharaja Sawai Jai Singh II in 18th century, Jantar Mantar has been given the status of UNESCO world heritage site. Built to observe the movements of stars and constellations, this observatory has 14 main geometric instruments.
Some of the most prominent ones are the Samrat Yantra, which is the largest sundial in the world, Hindu Chhatri and the Jai Prakash Yantra. It is also considered to be the largest observatory in the world.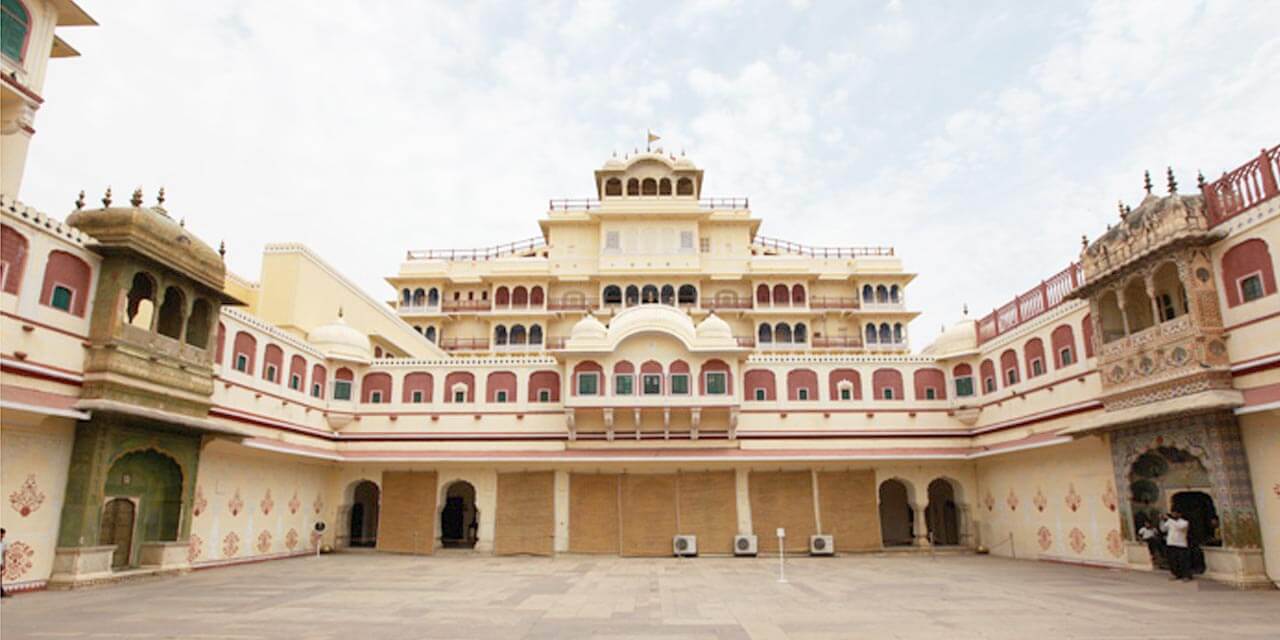 A huge complex in the middle of Jaipur city, City Palace was built by Sawai Jai Singh II. It showcase a blend of Mughal and Rajasthani style of architecture. The complex of City Palace is an amalgamation of many prominent buildings and rich museums displaying the life of royal Rajputs of Rajasthan such as Chandra Mahal, Mubarak Mahal, Diwan-I-Khas, Maharani Palace, Baggi Khana and many more.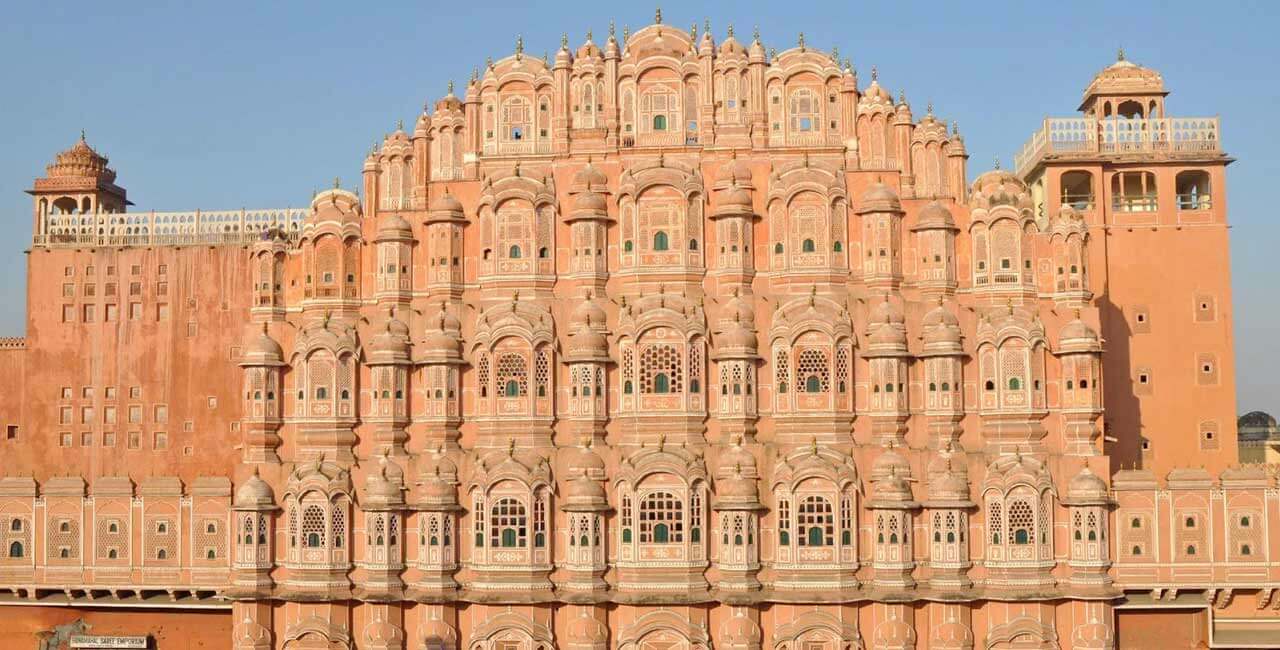 Considered to be one of the most prominent landmarks of Jaipur city, Hawa Mahal is a must visit with our 1 Day Jaipur Darshan. Also called as the Palace is Winds, it was built by Maharaja Sawai Pratap Singh in 1799. This five storeyed building boasts of 953 windows, called as Jharokhas, which have been intricately carved. This building also houses a museum which displays royal artifacts such as miniature paintings and ceremonial armors.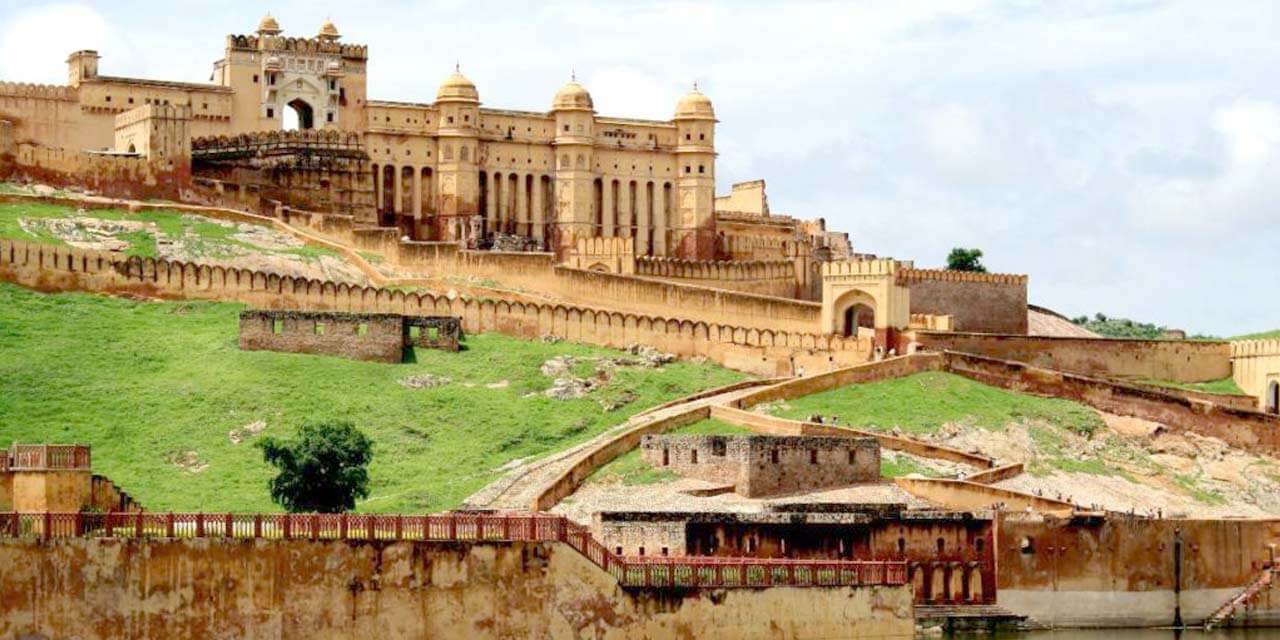 Situated at an impressive height of 500 feet above seat level, Jaigarh Fort presents a magnificent structure of sandstone. Built by Sawai Jai Singh II in 1726 AD to provide a protection to the Amet Fort, Jaigarh fort can easily be defined as the strongest fort of Jaipur.
Also named as the Victory Fort, it has the world largest cannon on the wheels - Jaivana Cannon. Laxmi Vilas, Vilas Mandir, Lalit Mandir and Aram Mandir are few other attractions which are located in fort complex.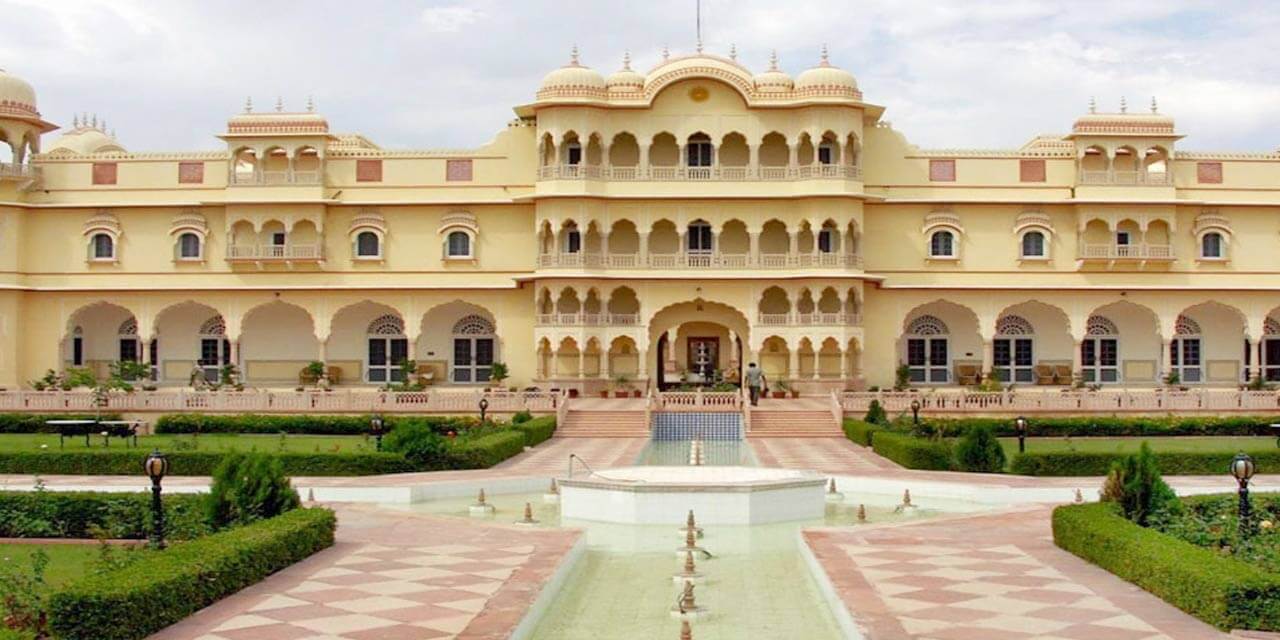 Located on the top of Aravalli Hills, Nahargarh Fort along with Amer Fort and Jaigarh Fort formed the security ring for Jaipur. It was built by Maharaja Sawai Jai Singh II in 1734.
The fort has many tarrcative sections such as a temple, which has been dedicated to Nahar Singh Bhomia, the Rathore prince and Madhavendra Bhawan which was built by Sawai Madho Singh. There is also an open air enclosure which was used by the Kings to meet the common citizens- Diwan-i-Aam.
---
Along with these, the pink city houses many other prominent sightseeing places in Jaipur that are worth exploring. Some of these are Kanak Vrindavan, Government Central (Albert Hall) Museum, Govind Devji Temple, Chhatris' of Gaitore, Birla mandir, Monkey Temple/ Galtaji Temple, Museum of legacies, Amrapali Museum, Jagat Shiromani Temple, Jaipur Zoo, Sisodia Rani Bagh and many others.
If you are interested in exploring the city's surroundings then plan a visit to attractions such as Chokhi Dhani, Elefantastic, Bagru Village and Chand Baori. For a stress free trip to these places, it is suggested to book a taxi from one of these top cab operators in Jaipur.
We also offer All Inclusive Jaipur tour packages where you are offered with almost every facility for a memorable holiday. Sightseeing, stay in Jaipur hotel or resort of your choice (budget hotel, 3 star, 4 star or a 5 star), complimentary breakfast, pickup and drop services are some of the facilities included in the tour packages. To know more about these packages, you can reach our travel experts by filling out the Contact Us Form.
How to reach Jaipur
For reaching Jaipur, tourists can choose from any of the three modes of transportation- railways, roadways and airways.
There are three choices for those travelling by trains. Most of the trains stop at the Jaipur railway station while some of the trains halt at Durgapur railway station and Gandhinagar railway station which are located nearby.
The pink city of Jaipur also has Sanganer Airport which receives flights from major cities of the country such as Delhi, Mumbai, Ahmedabad, etc., as well international destinations like Dubai, Singapore, Bangkok and others.
There are also regularly operating bus services to and fro Jaipur. Once in the city, tourists can hire taxis, or auto rickshaws or even opt for local buses to commute. One of the best ways to get a private taxi is by choosing one from these top car rental companies in Jaipur.